October was such a fun month at Carter & Higgins Orthodontics as we celebrated our 2nd birthday! Our favorite part of the celebration was honoring some of our local classrooms with a contest for a $1,500 prize. After reading many thoughtful submissions, we narrowed it down to 5 finalists and held a community vote to select the winner. The vote was close, but the winner of the Carter & Higgins Orthodontics Birthday Celebration Contest was Therese Iten, librarian at St. Pius X School.
Dr. Carter had the wonderful opportunity to present the prize to Ms. Iten and some of her smiling students. We cannot wait to see how they use their prize in the library!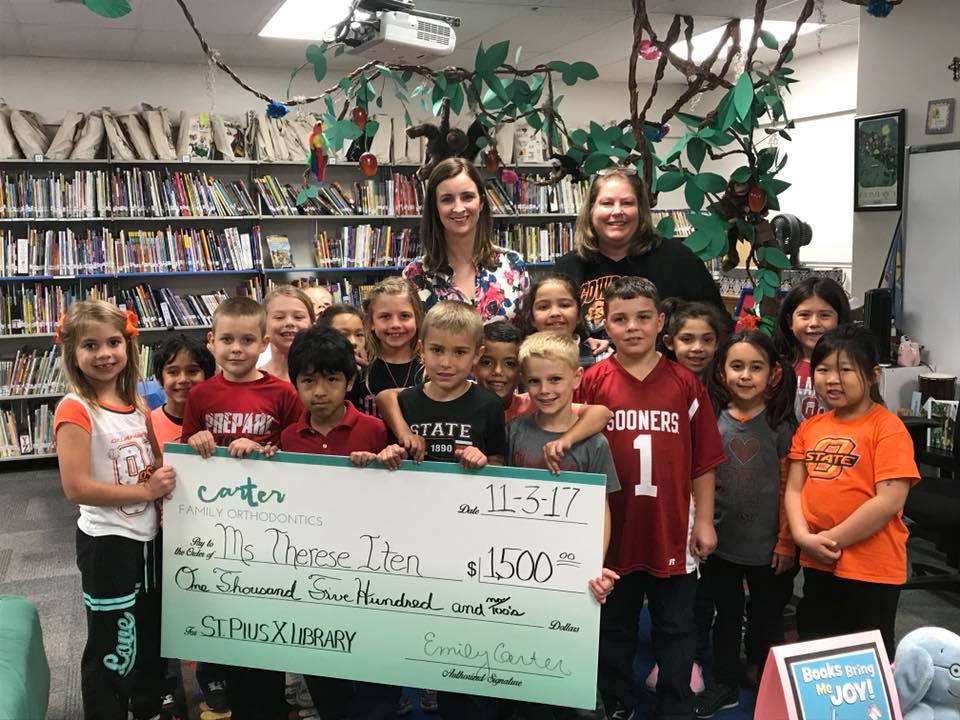 Below were the kind submissions from the community about the great work Ms. Iten has done for the library. Click here to read more stories about our top 5 classrooms.
"Ms. Iten went to Costa Rica with a grant and brought the rainforest back to students. She turned her library into the rain forest. She is the most creative teacher in how to inspire students to read."
"She turned the library into a rain forest! Ms. Iten visited Costa Rica this summer and decided to bring the rain forest to OK. She spent hours this summer along with her own money to turn the library into a rainforest so the kids can learn about not only the rain forest but other cultures as well. She engages the kids unlike anyone I have ever seen. They do not just visit the library to listen to books with Ms. Iten, she gets on the floor with them and they get to journey to a rain forest (complete with the mist and everything), they get to hatch eggs and watch them grow, follow DOG on all kinds of adventures just to name a few. Ms. Iten's love of learning and her students makes her very deserving of this award."
Congratulations from Carter & Higgins Orthodontics!