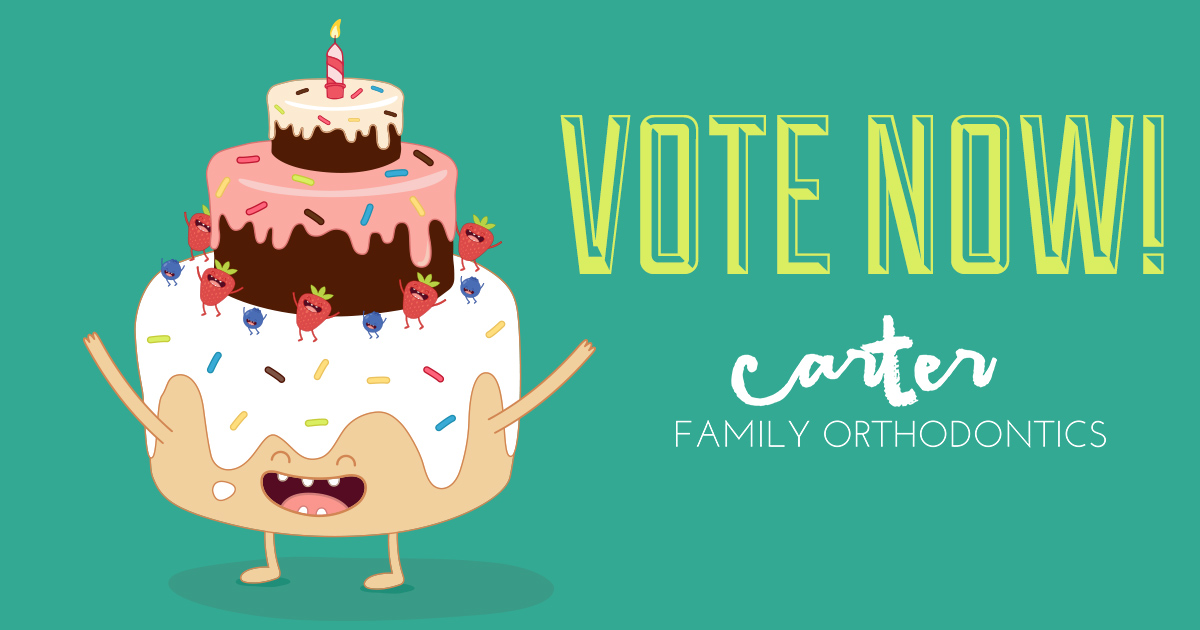 Birthday Celebration Classroom Contest!
Supporting education is the BEST way to celebrate our two year anniversary! We are smiling from ear to ear after reviewing 60 submissions for some of our wonderful Tulsa area classrooms. It was a tough choice, but we narrowed it down to 5 finalists. Now it is time for YOU to choose the classroom who wins $1,500 from Carter & Higgins Orthodontics!
Read more about each classroom, then submit your vote below or on our Facebook page. Voting is open until Tuesday, October 24.

Ms. Camille Wadlington- Jackson Elementary, K-6th Grade Special Education Math
Nominated by Ms. Wadlington for her students
"My students are so deserving of this award! They face tremendous challenges every day yet come to school prepared and ready to learn. My classroom would use this money as a resource to stock up on math manipulatives, supplies, and flexible seating to make learning more fun and engaging! This award would be a huge blessing and my students who are identified as having learning disabilities would have the resources they need to be successful!  Thanks so much for the opportunity!"

Mr. Colin Sato- Collegiate Hall, Grades 6 & 7
Nominated by Nikhil Kawlra
"Collegiate Hall is located in the 61st and Peoria Neighborhood in Tulsa, which is home to one-third of Tulsa's Section 8 housing and has some of the city's highest rates of violent crime, infant mortality, and domestic abuse.
Despite the challenges his students face, Colin Sato is creating a game-changing education for students in our community. He has created the city's first ever coding curriculum and his sixth graders last year learned to code in JavaScript and wrote a 9000 line computer game for the younger kids at the school to play. In addition to computer science, he's also teaching engineering this year; students from his class participated in the Tulsa Raft Race and now all students are learning to code in Python and are building their own computers and electronic equipment.
On top of his work in the classroom, Colin also has started a math club for kids (he previously taught math and his students regularly grew more 1.5 times what was expected) and has started a robotics team for 30 students. He has single-handedly put dozens of students in our community on the path to college and to STEM related careers."

Ms. Gloria Newman- Eugene Field Elementary, 3rd Grade
Nominated by Lindsey Meek
"Mrs. Newman is so deserving of this prize! She has taught at Eugene Field, in West Tulsa, for over 20 years. She loves her kids as if they were her own and had been such a light in their lives. She gives selflessly and puts in countless hours before and after school to make sure her kids have an amazing year of learning and fun! She puts so much heart into her class and I would love to shower her with this $1500 prize to bless her and her class!"

Ms. Therese Iten- St. Pius X, Pre-K- 8th Grade Library
Nominated by Nancy Hillman & Alisha Deao
"Ms. Iten went to Costa Rica with a grant and brought the rainforest back to students. She turned her library into the rain forest. She is the most creative teacher in how to inspire students to read."
"She turned the library into a rain forest! Ms. Iten visited Costa Rica this summer and decided to bring the rain forest to OK. She spent hours this summer along with her own money to turn the library into a rainforest so the kids can learn about not only the rain forest but other cultures as well. She engages the kids unlike anyone I have ever seen.  They do not just visit the library to listen to books with Ms. Iten, she gets on the floor with them and they get to journey to a rain forest (complete with the mist and everything), they get to hatch eggs and watch them grow, follow DOG on all kinds of adventures just to name a few.  Ms. Iten's love of learning and her students makes her very deserving of this award."

Ms. Hamsatu Garba- Carver Middle School, 6th Grade
Nominated by Eliza Fultz
"Our class has so much fun with Ms. Garba!  She makes science interesting!  Science has always been my least favorite subject, and now I look forward to going to science everyday.  With all the drastic budget cuts to Tulsa Public Schools, extra money to buy things for hands on activities is almost gone. Science is much more fun if we can "experiment," and I would love to do more in Ms. Garba's class.
My school is very unique. We have a 68% minority population, 45% of students qualify for free /reduced lunch, we are an International Baccalaureate school, and we are the highest ranking middle school in the Tulsa metro area.  We are a great big melting pot that includes students from every race, religion, and socio-economic status.  Most importantly, we are a family."
The polls are open! Place your vote below! Be sure to follow our Facebook page to see the results.